What is Drambuie?
We've been talking a lot about the dominating liqueur producing countries, France & Italy, but other parts of the world also have their delicacies worth mentioning. So today, we're talking about a Scottish treasure- Drambuie. If any fans of the TV show Outlander (like me) are reading, you're in for a real treat.
There are many mysteries involved in the Scottish culture, outside of producing scotch and wearing kilts, not many folks can say they are familiar with traditions or history except for when it involves Scotland and other countries. That's okay, that's what we're here for. Drambuie might sound like something we made up or perhaps a word from the Gaelic ancient language, unfortunately, we're not that creative.
Drambuie is a liqueur made with aged scotch and a mysterious mix of herbs and spices, but it is the addition of heather honey that truly sets it apart. Heather Honey is derived from a particular nectar that a tiny purple bell-shaped flower, called the heather plant (Calluna vulgaris), produces.
It grows wild in moorland environments which Scotland has plenty of, in fact, they have more than 60% of the earth's heather moorland. It is considered a delicacy in both Scotland and Ireland. The golden color liqueur ranges to a 40% ABV, so yeah it has honey, but also packs a kick.
If earlier you guessed Drambuie was Gaelic, good for you, it is! It translates to: 'An Dram Buidheach' in Gaelic, which means "The Drink that Satisfies".
Though the recipe itself is top secret, simply from drinking it you can pick up on some of the spices possibly used in the mix. Heather honey is, of course, the first to arrive on the palate, then you'll detect some demerara sugar, vanilla, clove, and cardamom.
The consistency matches its top ingredient, Drambuie is soft, silky smooth and feels like watered down honey syrup, meaning it definitely coats the mouth but thanks to the recipe you get to skip out on the burn that you experience with scotch.
Unlike scotch, Drambuie bottles do not mention how long the scotch used was aged, except for one- Drambuie 15. The scotch in that one is a 15-year-old Speyside malt scotch specifically.
Due to how pleasant it is, most people drink Drambuie neat, but there are a few cocktails where it shines. If you've ever had a Rusty Nail, for example, you've experienced Drambuie. The Rusty Nail has a ton of different variations like the Enc(rust)ed Nail. There are others invented by the current (and only) manufacturer of Drambuie today, such as their version of a Collins, and a number of specialty ones they got creative with that involve coffee.
You can find it in liquor stores in the U.S. today it will generally cost you an average of $38. A Drambuie 15, being of higher quality, runs around $54.
There are plenty of other whisky liqueurs, but you can go ahead and consider Drambuie, the one to rule them all.
A Brief History:
Let me go ahead and apologize/warn you, this is not as brief as we imagined it would be. In honor of Scotland though, we felt inclined to include the entire story.
Scotland is an old country, so it's no surprise that there is a little legend to go along with how Drambuie came to be. According to the official website, during the Jacobite uprising in 1745 the Scottish forces led by Bonnie Prince Charles, traveled to Rome to try and gather a stronger army. Prince Charles always carried his precious whisky around saying it gave him strength and, "vitality" for his journies.
Unfortunately, on their way back home on April 16, 1746, the Jacobites met their enemy- the Duke of Cumberland and his British Army near Inverness on the Scottish Highlands (once again, Outlander fans, clap your hands!)
The two armies gave it their all, and after a much-applauded effort by Prince Charles, the Jacobites were defeated. The battle came to be famously known as the Battle of Culloden, it was the end of Scotland's fight for freedom.
Following the heart-wrenching defeat, Prince Charles fled to the Isle of Skye, with the British army tailing him. When they finally caught up to him, the Clan MacKinnon aided him in escaping the British army one last time. To show his gratitude he gave the clan leader, John MacKinnon, the secret recipe to his elixir.
That gesture was greatly valued by the MacKinnon clan and the recipe has been passed down in secrecy through the generations. It wasn't until about 100 years after Culloden that a man named John Ross convinced one of the senior members of the MacKinnon clan to share the secret recipe. Mr. Ross owned the Bradford Hotel on the Isle of Skye and at his bar, he gathered that this whisky had become a novelty to the locals, he wanted to create a batch of the drink he heard, "satisfied." It worked like gangbusters, so in 1893 John Ross's son, James, registered a patent for the name Drambuie.
When James passed away in 1902, his widow Eleanor sold the hotel in 1908 and left the Isle of Skye for Edinburgh. Her son, John Ross II (Jame's brother, try to keep up) met a man named Malcolm MacKinnon (different clan), who worked for a whisky distiller, W. MacBeth & Son. He wanted to profit from this magical blend and eventually convinced the family to accept an offer that allowed them to keep the recipe.
Malcolm's equipment in Edinburgh was not meant for mass productions, so only 12 cases were sold that first year. Despite how much they advertised it as one of the finest liqueurs in the world, it tanked. That's when W. MacBeth & Son convinced the Ross family to sell the recipe but then their company tanked too, decreasing the value of Drambuie.
Eleanor's daughter Meg and her friend Georgina Davidson (Gina for short) convinced the company to make Malcolm the conquering hero and turn over the recipe/manufacturing of Drambuie. They caved and turned it over to him, which is when he formed Drambuie Liquor Company Ltd in 1914. Shortly after, World War I began and Malcolm and Gina were married.
The war effectively shut off trade from the continent and Drambuie was essentially left as the only liqueur in the UK for some time. This aided in sky-rocketing sales throughout both World Wars and eventually more family members joined in. It was 1945 when at the age of 62, Malcolm finally passed away, leaving the company in the hands of Gina and her brother William.
Gina swore to make Drambuie a lasting legacy for her dear Malcolm, so in the decades to come she would become an ambassador for her brand that eventually allowed her to travel to the U.S where she earned the nickname, "canny Scotts granny with the $2 million secret", according to Difford's Guide.
Gina eventually received an OBE from the Queen for aiding the export of the UK to such high numbers. She died in 1973 in her 300-year-old Edinburgh mansion where she made the Drambuie. Her sons took over the company and the recipe is sealed shut somewhere in Scotland, they're the only manufacturers of Drambuie and not even the management team knows the recipe.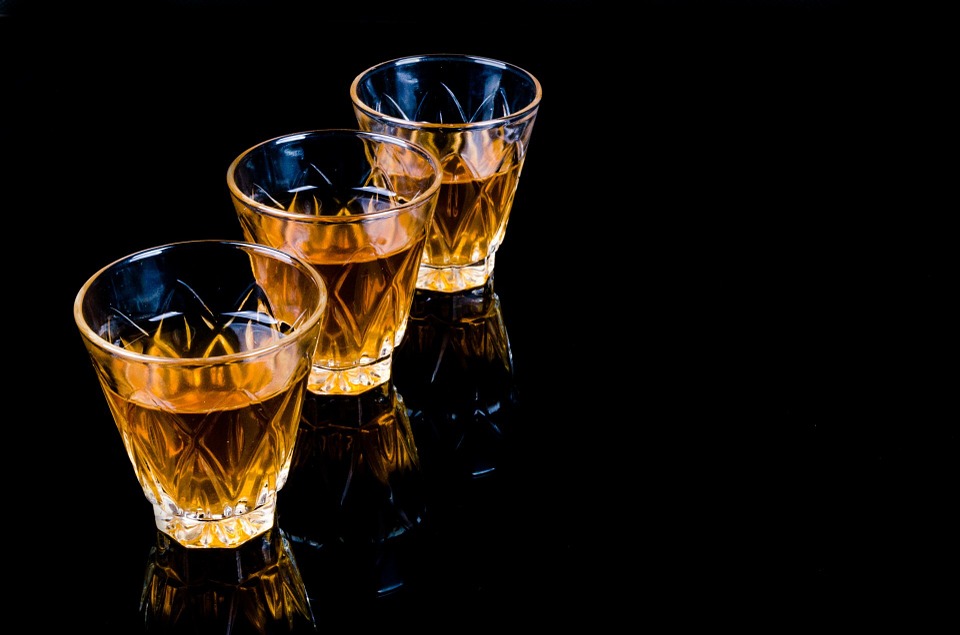 According to the Drambuie website, only 3 people alive today know the recipe to the elixir.
Drambuie is an exquisite liqueur with a story worthy of your enjoyment. Whether you order it in a cocktail or find it at a nearby liquor store to share in a gathering, we hope you cheers to the story of both the MacKinnon clans and the Ross' family, as a true Scot would.
Thanks for reading, and as always…
Cheers from,
Happy Hour City