What is Hesperidina?
When thinking of the beautiful city of Buenos Aires, you might relate the oh so popular Fernet, and you wouldn't be wrong in doing so. However, the honor of National Spirit of Argentina goes to Hesperidina, the lesser known aperitif that is making its way north. We decided this intriguing liqueur deserved some research and we found it involves Greek mythology, citrus, and an immigrant from Maine? Let's dive in.
Hesperidina is classified as an aperitif, made from bitter and sweet orange peels, that also contain flavonoids (a class of plant and fungus secondary metabolites) and that classifies it as a high-antioxidant aperitif. It's a dream when drinking can be healthy for our guts!
According to VinePair, the taste can be compared in style to triple sec, but, "lighter and less sweet." Ranking a solid 26 % ABV, Hesperidina is more commonly enjoyed neat, over ice or with some soda water and lime juice.
As for the name, it's inspiration comes from the Greek myth Hesperides- the tales of the Nymphs. The name means originating from Hesperos (evening). Hesperos, or Vesper in Latin, is the origin of the name Hesperus, AKA the "Evening Star", AKA the planet Venus. It also is in some branch extended to the origins of the English word "west".
Believe it or not, Hesperidina was actually invented by an American immigrant living in Buenos Aires via route of Maine. Melville Sewell Bagley was just shy of celebrating his 20 year anniversary since making Buenos Aires his home, and he had a lot to celebrate.
He'd come to live this far south thanks to the American Civil War (1861) kicking him out of his home in New Orleans, LA. He nestled in Buenos Aires and started working at a pharmacy called La Estrella which is still around today on Defensa and Alsina streets. He started messing around with digestive potions one day, and voila- Hesperidina was born.
In 1864 he teased his launch of the new and mysterious Hesperidina. Bagley would post about his product on posters reading "Hesperidina is Coming." Just his luck, a local newspaper noticed, and by the time it was released on December 24, 1864, Hesperidina had plenty of demand and supply.
Bagley certainly didn't think he'd be using his Hesperidina in a different Civil War when South America's War of the Triple Alliance (1864-1870) broke out between Paraguay against Argentina, Brazil, and Uruguay. Hesperidina helped soldiers and aided the sick.
The drink became so popular so quickly that soon Bagley had some rivals… Then, Bagley fought back by making Argentinean history. He requested the audience of the president at the time, Nicolås Avellaneda, to plead his case that the president should create a National Register of Trademarks and Patents. His big move was presenting the president with a copy of U.S. trademark laws as an inspiration to what the guidelines should be. A very similar legislation was then drafted and passed.
On July 14, 1880, Bagley's life came to an end, but his company remained in the family for more than a century. National drinks conglomerate Tres Blasones bought Hesperidina in 2004, and, in May 2018, it was purchased again by another corporation, Grupo Cepas.
Despite not being able to purchase or sell Hesperidina in many places, the company says they have big plans for Bagley's liqueur. In 2018 the director of sales for Grupo Cepas- Hernán Tantardini told La Nación- "Currently, the challenge for national drinks with centuries-long histories [such as Hesperidina] is to go out and conquer other countries."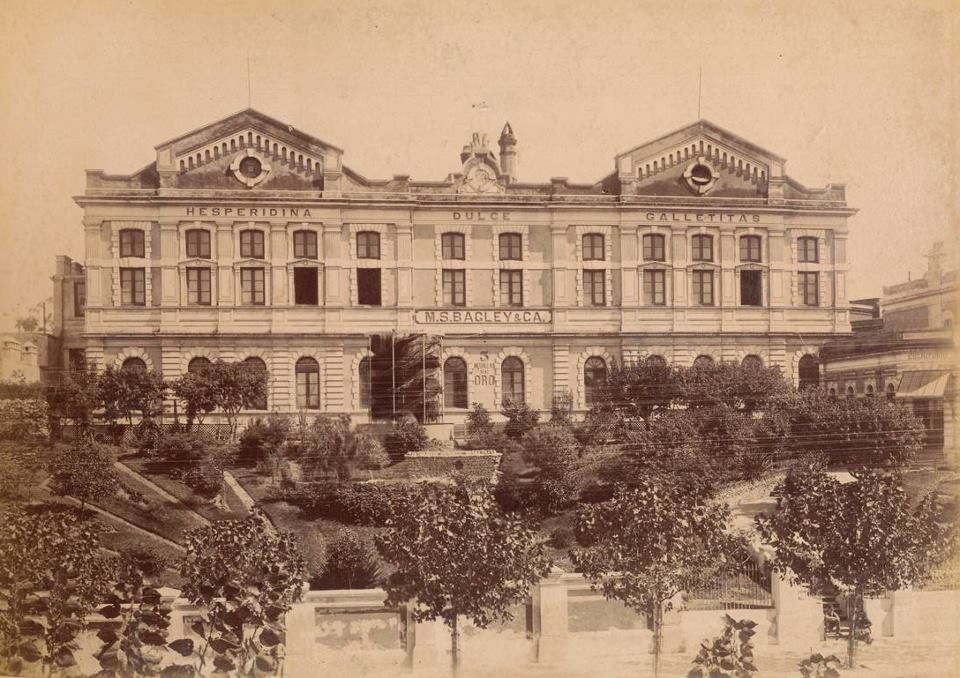 By 1874 Hesperidina became Argentina's first registered trademark.
Plus, it's said that Bagley was so worried and paranoid about duplicates or copy cats that he commissioned the NY Bank Note Project to make labels so detailed no one would be able to sell it as his again.
Talk about protecting your National Treasure! Good job Buenos Aires, now we just have more of a reason to book a flight to Buenos Aires soon. Have you had it? What's it like?
Thanks for reading, and as always…
Cheers from,
Happy Hour City