What is Akvavit?
Welcome to a new week! Today, we're heading way eastern north to the Scandanavian region, you know, the land above Europe that has crazy good living situations that make the rest of us wish we had at least better health care. Anyway, Denmark, Sweden, and Norway all have more than just neighboring borders in common- they all love their Akvavit, AKA Aquavit, or Akvevit.
Akvavit is a liquor distilled from grains and potatoes, which might make you think vodka, close- but no. Akvavit has a distinctive flavour that is produced from certain mixes of spices and herbs, however, according to the EU the more dominant flavor MUST come from a distillate of caraway and/or dill seed. It typically contains 40% alcohol by volume or 80 proof (U.S.) The EU has established a minimum of 37.5% ABV for Akvavit to qualify as Akvavit.
Other flavors you might detect are caraway, cardamom, cumin, anise, fennel, and lemon or orange peel. One Danish distillery Aalborg even makes their Akvavit with amber. It does have a signature flavor that is very strong and surprisingly easy to enjoy with foods that are usually hard to pair, some examples include pickled herring, smoked fish and pungent cheeses. But that is all, of course, based on the region (oh so is the spelling btw.)
Everything from the herbs and spices actually used for distilling changes from country to country based on local preference and cuisine. In Swedish and Denmark Aquavit is usually distilled from grain, while Norwegian Aquavit is traditionally made from potatoes. Danish aquavit goes a little heavier on dill, coriander and caraway. Swedish aquavit features more anise and fennel flavors, It's quite different in Norway, where aquavit has a multitude of layers like eike cumin and citrus peel.
Nordic people are tradition people (viking funerals anyone?) so you know there's big time traditions involving drinking and eating. In and is enjoyed as a quick chilled shot at midday lunch. but is also downed in one go, often followed by a beer and meal of pickled herring. However, Norway greatly values their liquor, aquavit to them is meant to be sipped slowly to experience its barrel-aged quality and adored for it.
The history of Akvavit is deeply affected by its etymology, it is derived from the Latin aqua vitae, or 'water of life'. It first appeared in a letter dated 1531, when a member of the most powerful family in Danish politics offered a case of the stuff to Olav Engelbrektsson, the last Roman Catholic Archbishop of Norway.
"Dear lord, will your grace know that I send your grace some water with messenger Jon Teiste which is called Aqua vite and the same water helps for all his illness that a man can have internally."
-Lord of Bergenshus castle, Eske Bille
In Sweden, akvavit is associated with song. Swedes will sing before downing their shots and chasing with beer, and often the singsong continues round after round. Of the more than 9,000 drinking songs recorded at the Historical Museum of Wines and Spirits in Stockholm, more than 200 are in honor of akvavit.
Back in the day the distillation of akvavit was once considered 'women's work' like wine and cheese. This is particularly true in Norway, where the spirit was distilled from potatoes rather than scarce grains.
Families would distil alcohol from potatoes about once a fortnight, infusing the spirits with caraway or dill and other spices in a pot still, following recipes handed down through generations. So in a way, it was once moonshine or homemade liquor.
As for the story of Linie, we must quote from ThorNews since: Alcohol advertising is totally banned in Norway.
"It is with great pleasure ThorNews publishes this article showing a small part of Norwegian cultural history
Every month fresh batches of matured oak barrels depart on a 19-week passage visiting more than thirty-five countries. The equator is crossed twice and it is always a ship from Wilhelmsen that is used for the freight.
The aquavit, which has a 60 per cent alcohol content, is stored in oak barrels on deck in containers. During the passage, fluctuations in temperature and humidity influence the maturing process, while the constant motion of the sea swirls the aquavit round in the barrels. More than one thousand barrels of Linie are at any given time maturing as deck cargo on the world's oceans.
Each bottle of Linie aquavit carries a description of its worldwide sailing route via Australia on the rear side of the label, stating the departure and arrival dates. Each drop of Linie harnesses memories of the sea passage. The maturing process is vital and starts with the import of 500-liter oak sherry barrels from Jerez.
The barrels were previously used for producing oloroso sherry for ten to fifteen years. The barrels give the aquavit its golden color; the residual matter from sherry provides a pleasant sweetness, and the white American or Spanish oak adds tones of wood and vanilla."
Want to get your hands on a bottle? In addition to imported offerings like Norway's Linie Aquavit and Denmark's Aalborg Aquavit, domestic distillers are also starting to experiment with aquavit. Krogstad Aquavit from Portland and North Shore Aquavit from Chicago are becoming well known with bartenders for their richly savory caraway notes. Seattle's Sound Spirits is also turning out a traditional style aquavit, while Wisconsin's Gamle Ode offers three different styles: Dill, Celebration (the most traditional version) and Holiday (infused with orange peel, mint and allspice.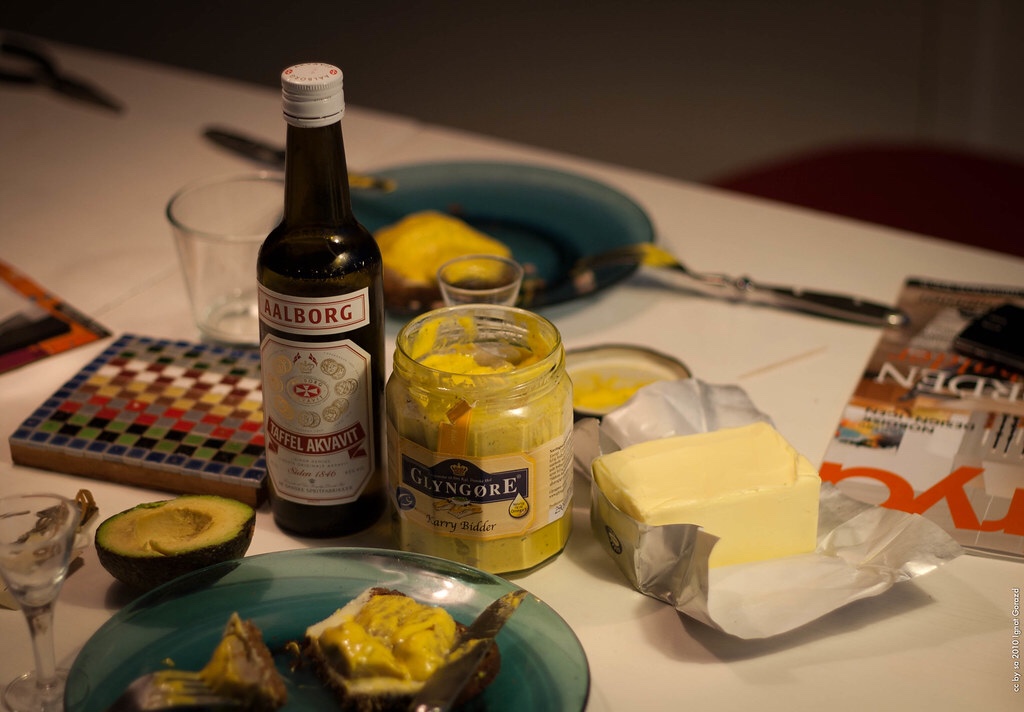 The Danish distillery Aalborg makes an akvavit distilled with amber
The building is located west of the Limfjord Bridge. Completed in 1931, it was designed in Neoclassical style by the architect Alf Cock-Clausen. It is now a Danish National Heritage site. The factory in Aalborg closed in April 2015 when production was moved to Norway.
Scandinavia is an incredibly cold place but that just means you need to drink a lot to stay warm! We are going to hunt for some in the US and learn more.
Thanks for reading, and as always…
Cheers from,
Happy Hour City