National Tropical Cocktails Day
Do you like Tiki bars? You're not alone. Tiki bars, and the tropical drinks they typically serve, have been going through a major come back in recent years.
How major? Major enough that in 2013 National Tropical dink day was started as a way to celebrate a taste of the islands. Rum flows heavy around these parts, and the blender might be loud, but there's definitely a good drink for you to celebrate with and feel that imaginary island breeze. Unless you're already on a tropical island and don't have to imagine. Also if that is the case we're SUPER jealous.
Tropical drink day was born on a hot June 26th afternoon in 2013 by Jace Shoemaker-Galloway. That's not an island distillery or brew house. That's an author. She is an author that has written thousands of articles about holidays and has even created a few of her own. Today is one of her creations and what a great time to celebrate refreshing island cocktails.
(Also, she created National Bartender and Mixology Day, so kudos on that one as well, Ms. Shoemaker-Galloway.)
National Tropical Drink day can be celebrated at home on a hot day, with friends at a pool or cook out, or better yet, at an awesome tiki bar!
Popular island drinks that regularly receive the most celebration are obviously piña coladas and frozen daiquiri's. They're the most well known island drinks hands down. Some might say mojito's but there's arguments to be made that they are not "tropical" drinks. This article is talking tiki! That's why we won't be mentioning frozen margaritas either.
However if the idea of a frozen daiquiri isn't your cup of tea, I ask you, have you had a classic, unfrozen, daiquiri? If your bartender knows how to make a great one, and they should at a tiki bar, it can be a wonderful alternative! There's hundreds of upscale, craft cocktail, variations of the old school classic with all sorts of fruits and purées, but if you've never had the classic you're missing out.
Want something a little more mellow and relaxing? Try a "Painkiller". Rum, cream of coconut and grated nutmeg. Very tasty.
Don't forget classics like "Mai-Tai's" and "Singapore Slings." The 1970's and some terrible movies from that decade almost sank these drinks permanently with bad cliches. Thanks to tiki bar revivals though these are back in action and a fun way to imbibe on your next visit!
Since the holiday is fairly knew we thought we'd share some history on tiki bars themselves.
One of the earliest and best-known tiki bars was named "Don the Beachcomber", and was created in Los Angeles in 1933 by Ernest Gantt, known locally as "Don Beach." The bar served a wide variety of exotic rum drinks ,including the popular "Sumatra Kula" and "Zombie" cocktail. It displayed many artifacts that "Don Beach" had collected on his visits to the tropics.
When Gantt returned from World War 2 he moved to Hawaii and opened "Waikiki Beach", one of the two godfathers of all tiki bars. The bar was designed to evoke the South Pacific, with palm trees, tiki masks on the walls, a garden hose that showered a gentle rain on the roof The bar was located on the beach, lit by tiki torches outside which helped evoke that island tribal vibe we all associate tiki with today.
The other grandaddy tiki bar is Trader Vic's, the first of which was created by Victor Bergeron in Oakland, California, in 1936. The Mai-Tai we mentioned before, traces its roots the original Trader Vic's where it was born in 1944.
Bergeron expanded the business to eventually include branches all over the world, as well as marketing cocktail mixes and other products for retail sale.
The original tiki bars flourished for about 30 years, and then fell out of vogue. In the 1990s, the Tiki culture was revived by a new generation of fans and new tiki bars were founded all over the world that often looked to Trader Vic's and Waikki Beach for inspiration.
In 2003, the Sip 'n Dip Lounge was rated one of the top ten bars in the world. The Sip 'n Dip Lounge opened in Great Falls, Montana in 1962(!) It was one of the few tiki bars to come out of the '70's and maintain its Tiki theme into the modern Tiki era.
One thing that helped them get such recognition as one of the top 10 bars was their hip decor. The main feature is a tank behind the bar that features girls swimming while dressed as mermaids.
Awesome cocktails and food help, but the swimming mermaids definitely helped bump this one up the list. After falling out of favor for 30 years being named one of top 10 in the world is a heck of a come back for tiki bars!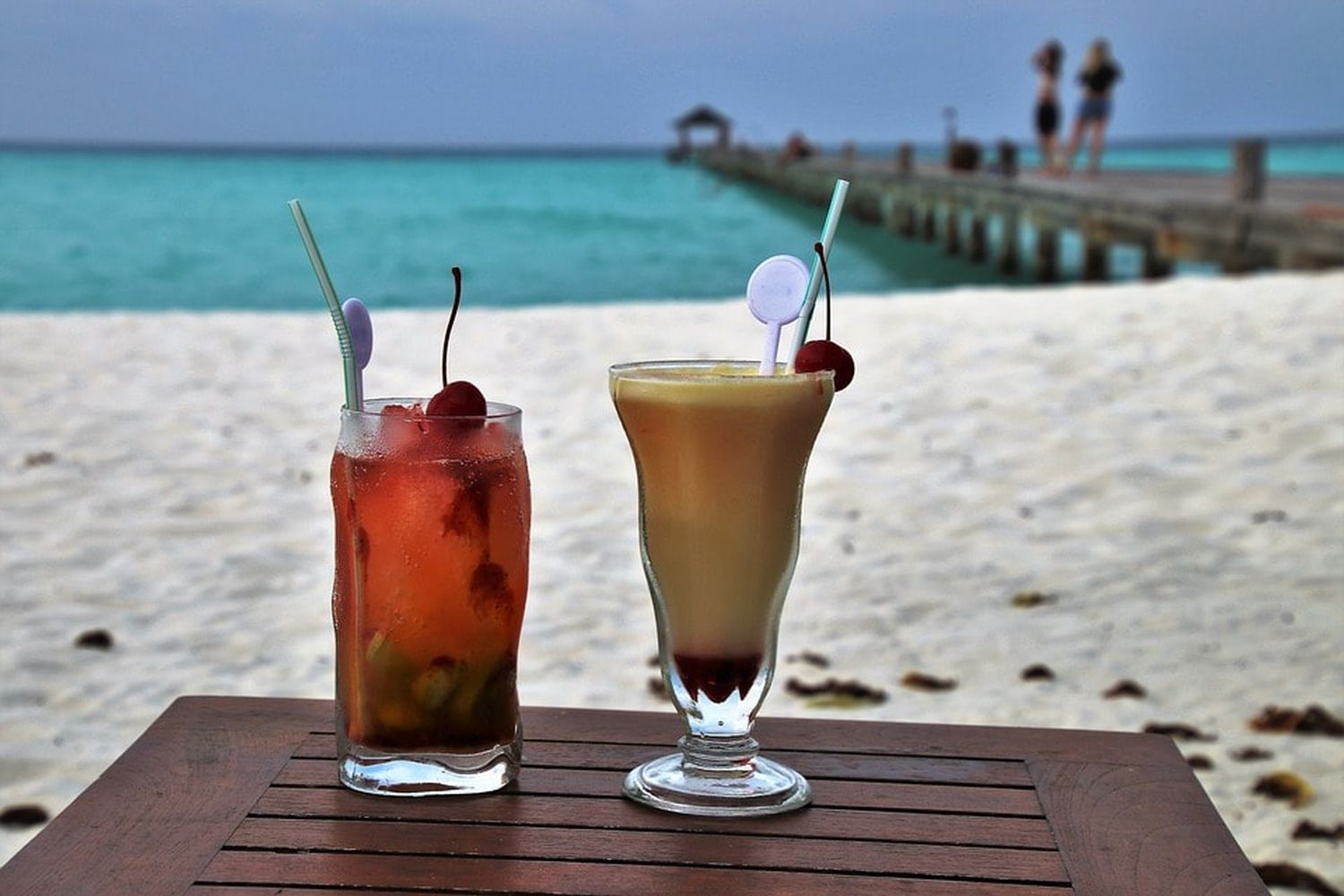 The original Don the Beachcomber location had a myna bird behind the bar that was trained to say "Gimme a beer, stupid!"
 
If you can hear the waves crashing on the shore, and feel that island breeze, whether real or imaginary, we hope you'll celebrate Tropical Drink day today with a tasty island drink, some good vibes and a tiny umbrella.
Let us know in the comments your fav island drink, or any good tiki bars you've found around town! Thanks for reading and as always....
Cheers From Happy Hour City.