Celebrate St. Patrick's Day
Top O' The Morning To Ya! Happy St. Patrick's Day!
To commemorate this day we have chosen the Irish Flag shooter.
This shot is made with Crème de Menthe, Irish Cream, and Grand Marnier to recreate the colors of the Irish Flag.
Not a drink most people would enjoy in cocktail form, but it is great as a shooter.
Try it out and let us at Happy Hour City know how you like it.
A Brief History:
Religious Holiday, National Holiday, or Drinking Holiday?
Today is the Roman Catholic feast day of the patron saint of Ireland, St. Patrick, in observance of his death.
Though born in Roman Britain with the birth name Maewyn, he was taken to Ireland after being kidnapped into slavery.
Finding his way out of slavery would lead him to a monastery in Gaul (present day France) where he converted to Christianity.
St. Patrick became a missionary and made his way back to Ireland. It is here where he aided in the spread of Christianity by abolishing the pagan rites of the Druids at Tara.
On March 17, 461, St. Patrick died and after his death was named the patron saint of Ireland.
Celebrations of this day in Ireland were very minimal, not like the grandiose extravaganzas we currently know today. When the Irish emigrated to the United States, celebrations grew in size.
It wasn't until the 18th century, that the first St. Patrick's Day parade was held by Irish soldiers who fought in the Revolutionary War. Now there are St. Patrick's Day parades all over the world.
These grand celebrations have definitely grown St. Patrick's Day to become a commercial, capitalist holiday for a large amount of the United States. St. Patrick's Day was seen as a strictly religious holiday in Ireland, thus making it a dry holiday due to the pubs being closed in observance. This changed in 1970 when St. Patrick's Day was made a national holiday.
Today, it would be hard to find a bar not filled with green beer, Irish Car Bombs, and tacky green clothing. For us, we don't need an excuse to drink, but if you do…. Psssst, here's your excuse!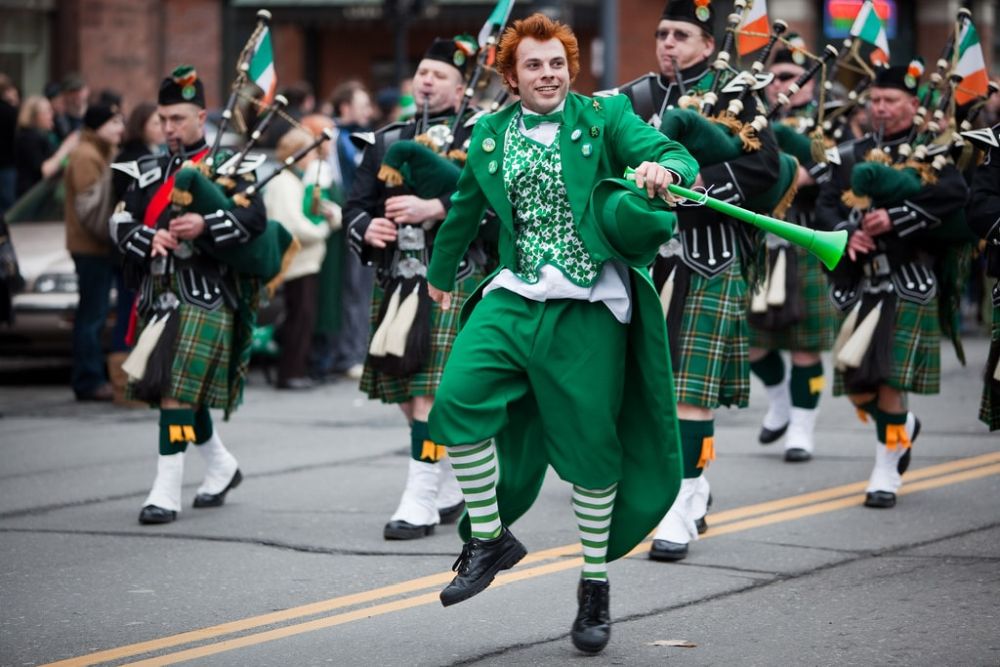 In traditional Irish folklore, there are no female leprechauns.
What started as a religious holiday in the 17th century grew into a national holiday, and evolved (or maybe devolved) into an international drinking holiday. No matter what this holiday is to you, we leave you with an Irish drinking toast:
"May you have all the happiness and luck that life can hold - and at the end of all your rainbows, may you find a pot of gold."
 
Thanks for reading, and as always...
Cheers from,
Happy Hour City