The Flying Scotsman
Scotland has revolutionized the way the world drinks/makes whiskey, and though most of them enjoy it neat (and fast going down) some do blend well in cocktails. Scotland is also a country rich with history so it's no wonder The Flying Scotsman has marked its place in time. But how did it remain there all this time?
Just from the recipe, you can tell The Flying Scotsman is a variation of other cocktails and quite simple to make.
Scotch is a hard spirit to mix into cocktails for a few reasons- the work that gets put into the caskets for the different flavors is meant to be admired not blended, the taste of the overall product is distinct and usually too strong to combine, and it is also very smooth in texture- but that doesn't mean it hasn't been done, the right way.
Technically, the only way you could mess up using scotch in a cocktail is by using single malt or top-shelf scotch, there are some exceptions but this ain't it. Blended scotches can be used in a number of lovely recipes.
The Flying Scotsman is one of those cocktails, and while it does resemble a Rob Roy, Manhattan, and Emerald- there is a fine distinction. The Rob Roy is also known as a Scotch Manhattan, and the exception to the rule above regarding single malts, this is one of those cocktails where the flavor of malt barley in scotch is meant to be highlighted and not muddled.
The Flying Scotsman, however, has a little more freedom, an orange peel instead of cherries and more angostura bitters. Plus, it is the only one that is part of not one, but two world records. It is the official cocktail of the infamous train of the same name.
Our research showed that back in the 1920s The Flying Scotsman was actually made with a single malt (the horror!) and was shaken and not stirred, which was probably easier to do on a moving train, but trust us when we say- stir it.
The drink itself may be a part of history but little is known about its origins.
It all started in 1862, a Scotsman named Walter Leith, who worked for the Great Northern Railway wanted to see a train run from London to Edinburgh. The route was, back then, still vastly unexplored.
By February 4th, 1923 designer Sir Nigel Gresley had the most powerful locomotives used by the LNER in those times.
By 1924, the 'Flying Scotsman' was requested to attend the British Empire Exhibition in London, which is when it got its fame and famous nickname, The 'Flying Scotsman' was born after the London to Edinburgh daily rail service.
In 1928, the addition of a new type of tender with a corridor, made way for a new crew to take over without the train having to stop. That made the trip to London about 8-hour shorters. So how did the passengers stay entertained on board? With booze of course! In 1928, the Flying Scotsman debuted its own cocktail- a simple take on the Manhattan with a citrusy twist. Soon after, both would make history.
On a special test run in 1934, The Flying Scotsman officially became the first locomotive in the UK to have reached that speed.
When planes came around, trains became outdated and drinking on planes was allowed so who needed locomotives anyway? The Flying Scotsman was then adopted by those flying the friendly skies along with other bourbon-based drinks.
In 1963 the locomotive was bought privately. It was maintained as a national treasure and a symbol of one of the biggest achievements of men. Its engine ran just fine though, so the owners started running pleasure trips all over.
To this day, you can ride the Flying Scotsman, it keeps a steady schedule northbound, and it only takes 4 hours and 19 minutes to get from London to Edinburgh. However, it is considered a luxury, including a three-course fine dining meal and brunch.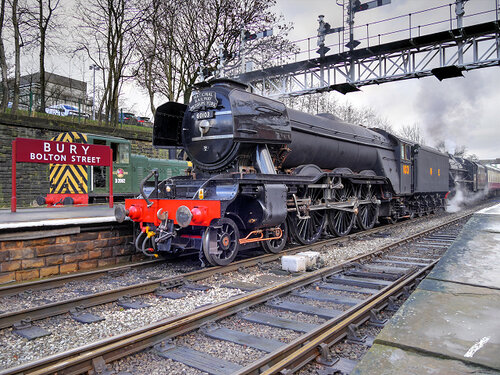 The train traveled the world, making visits to different countries and even breaking another record in 1989, this one for the longest non-stop steam run of 422 miles.
That was during the loco's visit to Australia!
If you've craved a trip to the past, in a luxurious train with amazing Scotch cocktails, get to London ASAP and experience it. It's one of those once in a lifetime things that belongs on everyone's bucket list. Until then, make as many Flying Scotsman as you like and if you use our recipe let us know!
Thanks for reading and as always…
Cheers from,
Happy Hour City