Black Velvet
The Black Velvet cocktail almost looks like the Death at Dusk cocktail from a local bar we love, The Association. Don't worry, this drink does not contain absinthe. Instead, it gets the dark color from the stout beer it calls for. Usually, beer and champagne people are two different people, but this drink will bring them together for a cheer.
Officially classified as a beer cocktail, the Black Velvet is a bit more prestigious than a Snakebite or an Irish Car Bomb. And yes the recipe calls for Champagne but unless you're ready to dump that kind of bubbly in a beer, go for something cheaper like Prosecco. For the stout, that's up to you, but Guinness is usually the go to. Also, the glass is interchangeable, if you desire to use a pint just make sure you use 4 oz of each liquid.
As for the technique, pouring the bubbles over the beer is usually best achieved over a spoon turned upside down over the top of the glass so that the liquid runs gently down the sides rather than splashing into the lower layer and mixing with it.
There is a version of this drink nicknamed the Poorman's Black Velvet, that's for those who can't get their hands on middle to high-end bubbly. This drink calls for a stout and a cider, we found most people strictly use Guinness and Blake's Flannel Mouth hard apple cider. But that depends on how fancy you're feeling.
So, who had the wild idea to combine these two opposites together? According to our research, the year is 1861, the place was Brooks's Club a historical gentlemen's club in London, but not the gentlemen's club you're thinking of, ya nasty. This place was built for the likes of London's most distinguished socialites, lords, barons, dukes, and so on.
It's not a very long story but a symbolic one. The drink was made in honor of Prince Albert's death in the same year. Queen Victoria and the rest of the country mourned and the folks over at Brooks's Club raised a toast of champagne in his honor. But it all seemed too cheery, so they added some stout beer to make it dark. The bartender present claimed that it was meant to symbolize the black or purple cloth armbands usually worn by mourners.
Nowadays, the cocktail is not terribly popular, but if you order it at a pub they might be highly impressed by your fancy.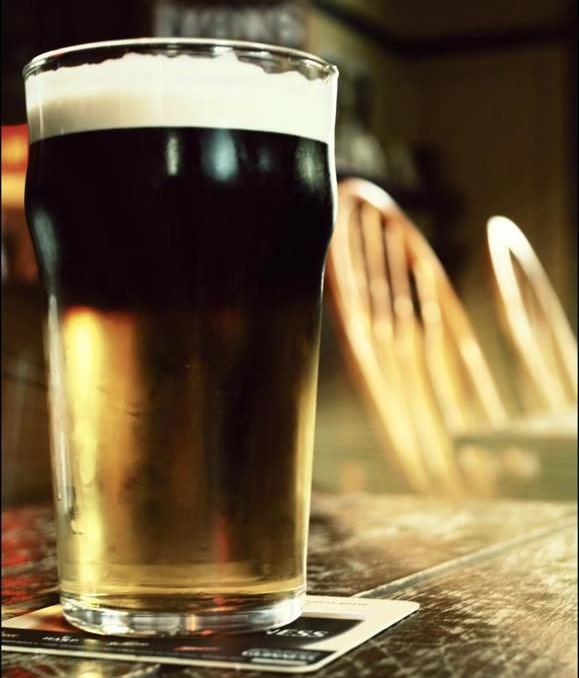 The Italian version is actually called "Velluto Italiano" or Italian Velvet.
However, they don't use a stout, instead, they substitute it for Birra Moretti La Rossa and of course, Prosecco.
Give this simple cocktail a try and impress the heck out of the guests at your next dinner party. The color is mysterious enough to raise eyebrows. Or try it out at a bar and see if maybe you can teach the bartender something. Whatever you do, let us know how it goes.
Thanks for reading, and as always…
Cheers from,
Happy Hour City