National Martini Day
Bond, James Bond. That's probably the first thing a lot of people think of when they hear the word "Martini." The drink has become the epitome of high class drinks thanks to a simple recipe and famous friends. Did we say simple? Maybe it's a little bigger of a category and we should explain "simple."
While there are infinite variations these days a classic martini was made with gin (which at the time was a sweeter variety than the London dry gin we're using in martinis today) a sweet vermouth, maraschino liqueur and orange bitters with olive. More like a Manhattan with Gin than a martini we think of.
As time passed the sweet vermouth was replaced with the dry variety, the maraschino liquor was dropped along with the bitters and boom! The modern martini was born.
Today if you order a martini you might expect it made with vodka but a good bartender should always ask how you like it. Wet is without vermouth, dry is with it, perfect is half dry half sweet vermouth.
Want a Gibson? You're getting cocktail onions. Ordering it "dirty" gets you olive juice. That covers about 1% of types of martinis that you can order today. Yes, I mean today. National Martini day. The perfect excuse to try one you're not familiar with!
We couldn't find much on this history of the holiday itself. It seems it's also celebrated quasi-internationally as well with London bars getting in on the celebration
Although the exact origin of the martini is unknown, this iconic cocktail has earned a permanent place in Hall of Fame of classic cocktails.
The first printed recipe for a "Martinez"cocktail appeared in a bartending manual published in San Francisco in 1887, being named for its gold rush town "birthplace". While this was the first time Gin and Vermouth were put on paper together, a Martinez is technically its own cocktail due to other ingredients and not a martini as we think of it today. There are those who think the beverage actually originated on the West Coast.
Some claim In 1911, a New York City bartender named Martini di Arma di Taggia began serving a cocktail made with gin, vermouth, orange bitters, and an olive garnish. The martini gained widespread popularity among Manhattan socialites, and has been associated with New York ever since.
Today, 50% of all cocktails are served in a martini glass. Some of the most famous martini lovers, both historical and fictional, include: John D. Rockefeller, Humphrey Bogart, Franklin D. Roosevelt, Clark Gable, Ernest Hemingway, and James Bond.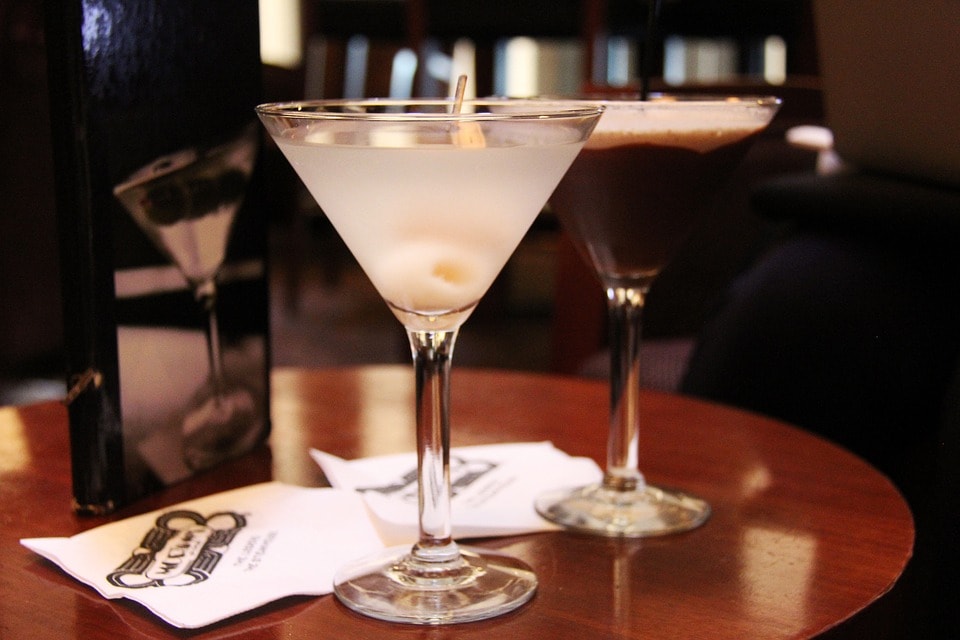 It's reported that when Hollywood Star Humphrey Bogart died in 1957, his last words were "I should never have switched from Scotch to Martinis"
As summer is about to start a nice cold martini can be the perfect way to enjoy the weather. Vodka or Gin, olives or twists, sweet or dry there's a martini for everyone out there and being a fictional British Spy is not a requirement for grabbing a glass and enjoying.
Let us know in the comments how you like yours and share any great recipes. Thanks for reading and as always.....
Cheers from,
Happy Hour City!